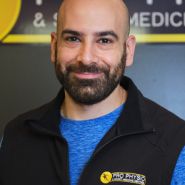 Registered Physiotherapist
Available at multiple locations
267 O'Connor St.
unit# 101
About
Mark Antonious is a registered physiotherapist who completed his undergraduate degree in Human Kinetics (B.Sc. HK) and Ottawa University, and his Master's degree in Physiotherapy (M.PT) at Queen's University.
Mark started his journey through physiotherapy as a physiotherapy assistant out of high school, and continued to work during his University period as an assistant, kinesiologist, and clinic admin at multiple locations across our company. He graduated from Queen's in 2011 and became the Clinic Director and part owner of Pro Physio & Sport Medicine Centres Capital Sport before it joined the Lifemark family. He is now the Regional Director Pro Physio Algonquin College, Carling, and Greenbank as well.
Mark's treatment style combines manual therapy with mobilizations of joints, soft tissue and myofascial releases, and exercise therapy. He treats all forms of injures such as overuse, postural, chronic and acute. Mark has a background in Movement Diagnosis Therapy (MDT from the McKenzie Institute), and has completed levels A-D for advanced cervical, lumbar, thoracic spine, upper and lower extremity assessment and treatment techniques; along with the E level for advanced practitioner techniques. This allows him to find the sources of pains instead of symptom based diagnosis and treatments. He also treat TMJ, Dizziness and vestibular disorders, and concussions.
He is also certified to perform acupuncture and dry needling. Mark also has 10+ years of experience with custom and off the shelf bracing, compressions socks and therapy, along with custom orthotics and percussion massagers.
On his free time Mark enjoys his family and enjoys activities that challenge his problem solving skills such as fixing different mediums from electronics to houses and renovations. Enjoys activities such as wakeboarding, snowboarding, rock climbing, and going to the park with his kids.