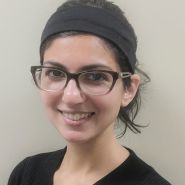 Available at multiple locations
About
Nadia completed a Bachelor of Science in Kinesiology from York University in 2004 and a Master in Physiotherapy in 2006 from McMaster University. She has taken courses specializing in pelvic health, acupuncture and manual therapy. She has practiced in the field of out-patient orthopedics in Edmonton, the GTA and in Pakistan using a manual based, holistic approach.
Nadia is currently working with Lifemark in Oakville and sees a mix of orthopedic and pelvic health conditions including incontinence, prolapse, pelvic pain, gastrointestinal issues, post and prenatal as well as long-standing hip and back pain. Realizing the importance of having a well-functioning pelvic floor and the role it plays in achieving proper biomechanics allows Nadia to use a unique treatment approach for a variety of symptoms.
Nadia has a positive attitude, she is empathetic with her patients and is very passionate about what she does. She continues to enhance her skills in the field of pelvic health and orthopedics in order to provide individualized, and patient-centered care. Nadia's goal with all of her patients is to restore them to their optimal function.