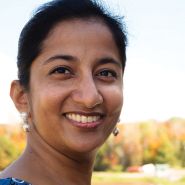 Available at multiple locations
940 Jamieson Parkway, Unit B1
About
Nimmy graduated  from Mahatma Gandhi University, India in 2001. She moved to Canada in 2006. Nimmy's career has encompassed various fields of physiotherapy including neurology, orthopedics, cardio-pulmonary, geriatrics and pediatrics.
While working with the geriatric population, Nimmy noticed that the majority of falls that occurred amongst seniors was as a result of incontinence. Thus began her foray and journey into pelvic health education and rehabilitation. Nimmy did her post-graduate specialization in pelvic floor rehabilitation in 2013. Since then, she has been committed to helping both the female and male population with their bladder, bowel and sexual dysfunctions.
Nimmy is an experienced practitioner and has worked extensively with a wide variety of conditions including leaking of urine during sneezing, jumping, daily activities, during pregnancy, post delivery and after pelvic surgeries, weakness of pelvic floor, tightness of pelvic floor, prolapse of the pelvic organs, painful sex, fecal incontinence, and pelvic and back pain during pregnancy, after delivery and after pelvic surgeries. After performing an external and internal assessment, Nimmy discusses treatment goals and puts forth a  treatment plan that is customized to the patient's individual needs.
Nimmy's work as a registered physiotherapist is both fulfilling and rewarding to her. She is passionate about helping improve the quality of patients' lives.
In addition to physiotherapy, Nimmy enjoys reading fiction, cooking, travelling, hiking and spending time with her husband and their young daughter.