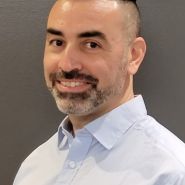 Registered Physiotherapist
Available at multiple locations
267 O'Connor St.
unit# 101
About
Theodore Calligeris graduated at the University of the Free State in 1999 with his B.Sc Physiotherapy Honors, while completing his Diploma in personal training through the Reebok University. He furthered his studies by completing his Master's degree in Sports Physiotherapy at UCT in South Africa. He is passionate about his profession and sharing his knowledge with his colleagues, students who are studying to become physical therapists/physiotherapists as well as his patients.
He was previously director and chief sports physiotherapist of the Sports Science Physiotherapy Centre based at the Sports Science Institute of South Africa and served as a Member of Team South Africa during the 2008 Beijing Olympics, the 2008 IAAF Indoor Track and Field World Games, and the 2006 Commonwealth Games to name a few, through the South African Sports Confederation and Olympic Committee (SASCOC) and a member of the South African Sports Medicine Association (SASMA). His has vast experience with many professional track and field, soccer, and rugby teams at club, national and international level. He furthermore was honoured to be appointed personal physiotherapist to President of South Africa in 2010 and Official Sports Physiotherapist to the Cape Town Stadium during the FIFA World Cup 2010.
He has a unique approach with an interest in shoulder, tennis elbow, lower back, hip, knee injuries. He has published his research in a peer reviewed journal the SAJSM and has been involved in many research studies to date. He has also presented workshops and research at the FIFA World Cup Conference in 2010 and the World Physiotherapy congress in 2017 to name a few.
Academically he was involved in education as a NMS Clinical Supervisor at the department of Physiotherapy at UCT. He was also involved with the clinical education placement of students from Queen's University, Kingston Ontario, in Cape Town in 2019. Furthermore he has also completed courses in MSK Ultrasonography, Concussion treatments, Dry Needling, a variety of taping techniques and attended many high performance courses.