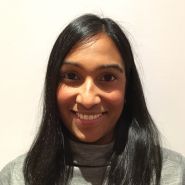 PT, DPT, Pelvic Health, National Pelvic Health Clinical Lead
Available at multiple locations
Suite 209, 4800 Leslie Street
About
Uma graduated from the University of Toronto with a Bachelor's of Science degree in Physical Therapy in 2003 and in 2010 completed a Doctorate of Physical Therapy at Boston University. Uma began treating clients with pelvic floor dysfunction secondary to oncological intervention while working in New York at Memorial Sloan Kettering Cancer Center (MSKCC). During her time at MSKCC, Uma discovered her passion for pelvic health and played an integral role in the development of the Pelvic Health program.
Since relocating to Toronto, Uma has dedicated her efforts to the treatment of both women and men with pelvic floor dysfunction. Uma has also completed training in Visceral Mobilization, Craniosacral Therapy, and Lymphatic Drainage and uses these techniques to provide a unique and holistic approach to compliment her skillset as a Pelvic Health physiotherapist.
She currently practices at Lifemark Leslie and Sheppard in North York and is an Adjunct Lecturer for the University of Toronto's Physical Therapy department. This role complements Uma's passion for teaching, mentorship, and increasing knowledge of pelvic health issues for budding therapists with interest in this area of practice. In the future, Uma's goals include enhancing knowledge in Pelvic Health through research contributions and is currently in the process of developing a pilot project.